Texas head coach Steve Sarkisian speaks with reporters during the 2022 Big 12 Football Media Days, Thursday, July 14, 2022 at AT&T Stadium in Arlington, Texas. (Liz Parke, Big 12 Conference)
Estimated read time: 6-7 minutes
ARLINGTON, Texas — Steve Sarkisian's coaching career has taken him from coast-to-coast, from the NFL's Oakland Raiders to the SEC's Alabama Crimson Tide, with stops at USC, Washington and the Atlanta Falcons in between.
But the former BYU quarterback has never forgotten his roots, namely those of hurling fourth-quarter bombs to beat Texas A&M and holding off Kansas State in the Cotton Bowl to cap one of the greatest seasons in Cougar football history in 1996.
So when the Cougars received the call-up to join the Big 12 last September, the current Texas head coach was thrilled. He still keeps in touch with BYU staff members, including former teammate Kalani Sitake and offensive coordinator Aaron Roderick, a redshirt wide receiver on that powerhouse squad.
For Sarkisian and every other former BYU player, the move to the Big 12 caps a long journey for the program.
"I'm excited for BYU," he said during Big 12 media days Thursday at the home of the Dallas Cowboys. "That program has been through a little bit of an awkward change, from being in the Mountain West and the WAC to being independent to now finding a home here in the Big 12. So I'm excited for BYU. I know a lot of the people at the university, and Kalani Sitake and I were teammates at BYU.
"I know they've got a big year ahead of them this year, and I'm sure they're looking forward to the future in the Big 12."
A lot has been made of the introduction of BYU, along with the American Athletic Conference trio of Cincinnati, Houston and UCF, to the Big 12 beginning July 1, 2023. Much of it has been opinion or speculation, with some of it backed up by facts.
But what the Cougars and AAC threesome bring to the Big 12 is an important matter: stability, especially after Texas and Oklahoma prepare to leave for the SEC no later than 2025. And they just might have an advantage in the next round of realignment, the one triggered by the Big Ten pulling two west coast rivals to the midwest league that will soon stretch from Los Angeles to New Jersey.
"Bob's leaving our leadership ranks, and the decision Bob (Bowlsby, outgoing Big 12 commissioner) made a year ago to move is pretty powerful right now," Iowa State coach Matt Campbell said. "I think where we are today as a conference, we're probably in a lot better shape than we were a year ago.
"Obviously, a lot of credit to Bob, his leadership and certainly the leadership of the Big 12 Conference to make a good move at the time. I think it's positioned us in a great spot moving forward."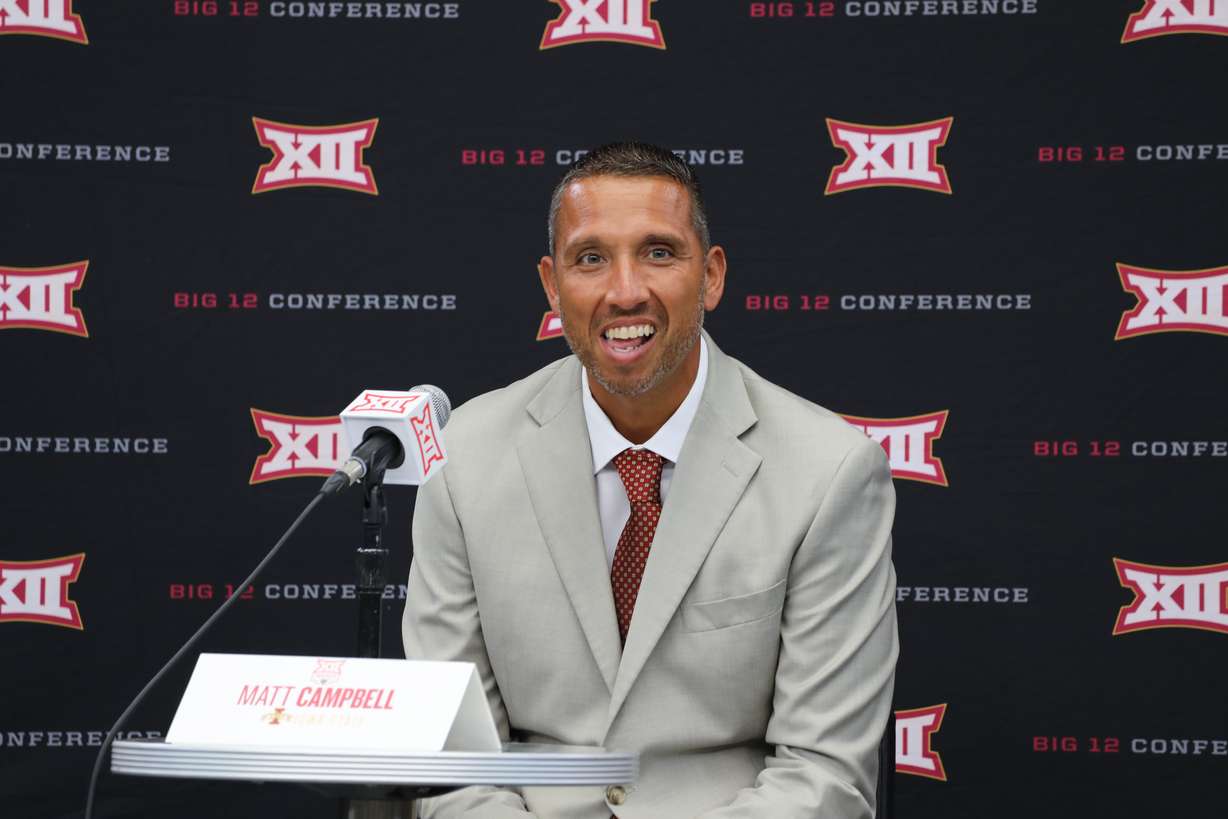 In an age of conference realignment where everything seems to be changing at a rapid pace — with the aforementioned Longhorns and Sooners moving to the SEC, USC and UCLA bound for the Big Ten, and a Pac-12 that has been reduced to 10 without its marquee programs in Los Angeles — the conference founded from the remains of the Southwest Conference in 1994 then known as the Big 8 has found a rare stability in its most recent form.
While no one is arguing that the Big 12, be it at 12 or 14 teams or more, will be a bigger draw and haul in a larger television check than the soon-to-be Big Ten and SEC, which are quickly lapping the rest of the field in college football.
But after a summer where the remaining eight teams in outgoing commissioner Bowlsby's conference were left to fend for themselves, without a helping hand from either the Pac-12 or ACC, stability is a welcome relief for the league that will soon transition to Brett Yormark's leadership on Aug. 1.
"BYU is one of the few schools that truly has a worldwide reach," Bowlsby told a group of reporters after Wednesday's opening press conference.
"I think we added the four best schools we could have added," he later added.
And in finding that stability, the Big 12 also brought back a little bit of the old Southwest — hello, Houston — and one of the biggest brands from outside the Power Five in BYU, to say nothing of last year's College Football Playoff contender Cincinnati.
"I think in some ways, we're getting some of that back, like with Houston coming back to the league that they were in the Southwest Conference," first-year TCU coach Sonny Dykes said. "If you ask our players what the Southwest Conference was, most of them won't know. But a lot of our fans do. Those things are important."
Is it possible, then, that the new Big 12 — the one devoid of Longhorns and Sooners, but with an array of Cougars, Bearcats and Knights — got even better?
Maybe not by branding or national name value. But with on-field results?
There's certainly an argument. Oklahoma finished the season ranked No. 10 nationally with an 11-2 record, while Texas was unranked after a 5-7 campaign in Sarkisian's first season.
At the same time, Cincinnati went 13-1 and finished No. 4 nationally, No. 17 Houston was 12-2, and BYU won 10 games for the second-straight season and finished 19th in the Associated Press Top 25. UCF, which recently hired former Auburn coach Gus Malzahn, finished with nine wins or more for the seventh time in the last 10 years — including a perfect 13-0 season in 2017.
"This is not an indictment on any of the teams leaving," Dykes said. "But if you go back and look last year, you can make the argument that those teams were as good as the teams leaving — or better. The way you measure success in football is by who wins and who loses.
"On that measure alone, I think the conference got better in football. Now is that going to be the case consistently, and long-term? I don't know. But those are good football teams. Cincinnati showed everybody what kind of team they had when they rolled into South Bend and handled Notre Dame.At the end of the day, that was a top-five football program.
"Houston was the same way by the end of the year. Those are very, very good football teams, and teams that really care about playing football at a high level."
The Big 12 may not be as close to the SEC and Big Ten in television revenue, the on-field comparisons may be closer than a lot of people think.
At the very least, the middle class should be wildly entertaining with a core group of schools in one of the most football-mad areas of the country.
"I know we're in the Big 12, but we're in the state of Texas. And football is extremely important in the state of Texas, at all levels," Texas Tech coach Joey McGuire said. "I'm just glad to be apart of it."
×
Pictures
Most recent BYU Cougars stories
More stories you may be interested in
.